Want a stylish custom fit suit or tux for your wedding without being forced to purchase it?
If you think the only options for your wedding tuxedo rental or suit rental are:
1. Big suit stores that make you buy a full special-occasion outfit that will you'll rareky (if ever) wear again, or
2. Settle fir a smelly, sloppy (or too-tight) tuxedo rental from a shop that just wants to get you out the door and on to the next customer…
…think again.
Minsky Formal Wear makes it easy to give you and your wedding party the perfect look, with the personalized attention and care to make sure every guy at your wedding looks amazing. We offer same-day appointments AND tailoring, which means you don't have to take hours out of your day to get fitted right.
Best of all, we make it easy for you to get the style you (and your girl) will love – with hundreds of sizes, colors, and the latest styles and accessories in store, you'll find the exact on-trend look and fit you want, with the flexibility to make changes if you need it.
Schedule an appointment here, or stop in to Minsky Formal Wear today – in 30 minutes, you'll have the wedding style that makes you look and feel the best you ever have.
to being the best-looking thing besides the bride
1
Schedule an appointment OR come into our shop to see our impressive in-store collection of colors, styles, and accessories. We'll guide you to find exactly what you and all your guys need – with no pressure or commitment to rent (and never requiring you to buy). Worth a trip from anywhere.
2
You'll be fitted with any alterations on the same day. Out of town groomsmen can take our online fitting form to their local tailor for measurements. We'll give you a detailed list of what each guy is wearing, and you can make any changes up to 1 month before your wedding day.
3
A few days before your wedding each guy will pick up his outfit and have any last-minute alterations made immediately on-site, so you know everyone will have a custom, stylish fit that makes them look incredible.
4
Easily return your tuxes the Monday after your wedding with a simple two minute return process.
What Our Customers Are Saying
Don is a true master of his craft. He not only helped me find my Scottish Clan's Ancient Tartan, he also helped order all of the pieces to my traditional Scottish Garb for my wedding, helped me try on different tux top pieces that compliment the kilt and provided a timely custom fitting before we flew to Norway for our wedding. He provided excellent service, top quality products and serives and delivers honest and fair pricing.
– James R.
I showed up two weeks before my wedding to get quotes and fitted, eveything was as promised, and even better, no adjustments needed to be made to any of  the suits.
I was the best looking thing besides the bride!
-Diablio A.
I'm a fashion stylist living in Los Angeles, and I needed a place that had modern suits and a place that was easy to deal with long distance. We went into Minsky's for about 30 minutes one day when we were in town, picked out what we wanted for all the men, and that was it! All the guys had to do was get measured at their house (or go into the shop) and use the online measuing form to send in. So easy.
-Vivian B.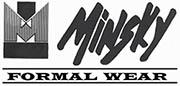 Address
819 W Arapaho Road, Suite 28
Arapaho Rd @ West Shore Dr.
Richardson, TX 75080.
Business Hours:


(Central Time)


Monday thru Friday
7:00 AM to 6:30 PM
Saturday:
8:00 AM to 5:30 PM