Suit Rental at Minsky Formal Wear

Suits Rental in Dallas at Minsky Formal Wear
When you wear a suit, you communicate with those around you that you are professional and confident. Suits can change your perceptions, and how others perceive you as well. Because wearing a suit conveys a respectable image, many people wear suits to informal wedding, job interview, attending wedding, homecoming or wear to the court. For above reason Minsky Formal Wear makes suits rental easy.
Suits rental for your wedding or for any informal event in Dallas we have fitted suits rental.
You'll find the largest selection of color options

in Black, Dark Grey, Light Grey, Navy and Tan Colors. 

Browse our gallery below for your suit rental selection!
Same day and Saturday service available for Black suits rental at Minsky Formal Wear in Dallas.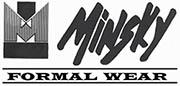 Address
819 W Arapaho Road, Suite 28
Arapaho Rd @ West Shore Dr.
Richardson, TX 75080.
New Business Hours:
(Central Time)
Monday thru Friday
8:00AM to 5:00PM
Saturday
8:00AM to 4:00PM