Tuxedo Vest from Minsky Formal Wear
We have vast selection of tuxedo vest to choose from. If we don't have your color of tuxedo vest then its not made. I have provided list of colors for your tuxedo vest!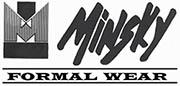 Address
819 W Arapaho Road, Suite 28
Arapaho Rd @ West Shore Dr.
Richardson, TX 75080.
New Business Hours:
(Central Time)
Monday thru Friday
8:00AM to 5:00PM
Saturday
8:00AM to 4:00PM