Cummerbund for taller look & thinner waist
Among formal tuxedo accessories, the cummerbund isn't really the most popular. In fact, if there is just one poorly understood and under appreciated formal accessory in today's formal climate, it's the cummerbund. The modern purpose of the cummerbund is to cover the waist. Cummerbunds are meant to be worn with the pleats facing upward. The benefit of wearing cummerbund is that it serve as excellent crumb catchers, use to hold opera or syphony ticket stubs and it tend to make men look taller with a thinner waist.
We have over 35 different color cummerbunds and ties to choose from.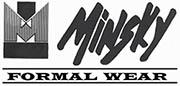 Address
819 W Arapaho Road, Suite 28
Arapaho Rd @ West Shore Dr.
Richardson, TX 75080.
New Business Hours:


(Central Time)


Monday thru Friday
7:00 AM to 6:30 PM
Saturday:
8:00 AM to 5:30 PM