Grey Tuxedos or Grey Suits by Minsky Formal Wear
Grey Tuxedo Rental or Grey Suits Rental available for your wedding or after five event.
Minsky Formal Wear has largest selection of Grey tuxedos or Grey suits for rental. It's for wedding, prom or your black tie event in Dallas.
Grey tuxedo or suits can surely is a color that can make any man look good, when worn properly. Wearing a gray color will give you an impactful garment. Gray two-button provides you with a solid and a timeless base, upon which you can add distinctive formal vest and ties and formal brown shoes. Now you can wear that tuxedo or suits confidently and make heads turn your way – if it's a wedding or a formal night out!
Come and visit our store and pick dark grey, light grey or any other shade in between for your tuxedo or suits.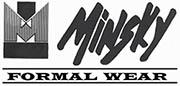 Address
819 W Arapaho Road, Suite 28
Arapaho Rd @ West Shore Dr.
Richardson, TX 75080.
New Business Hours:
(Central Time)
Monday thru Friday
8:00AM to 5:00PM
Saturday
8:00AM to 4:00PM